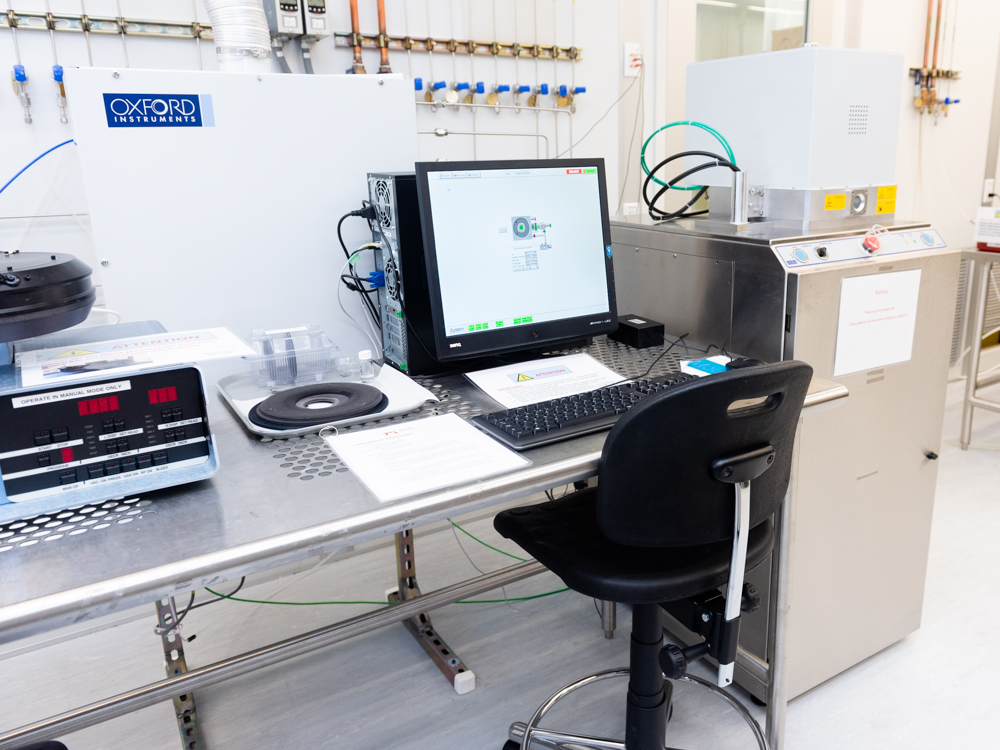 Oxford Instruments Plasma Lab 80+ PECVD and Etching
Contact: Dr. Raluca Gearba
Email: gearba@austin.utexas.edu
Location: FNT 4.106
Equipment Type:
Cleanroom Instrumentation
Nano and Micro Fabrication
Plasma Etching and Material Growth
Information the Equipment Can Provide
The Oxford Plasmalab80 is a unique tool which combines etch and deposition capabilities into one tool. The Oxford system can etch high aspect ratio features using either the Bosch (gas chopping) or cryo processes. The system produces very high plasma energies through the use of a remote plasma chamber and an inductively coupled plasma generator, this set-up reduces the need for elaborate precursor development and gives significant control of the impact energy that ions have with the substrate. Depositions of silicon dioxide, silicon nitride, or mixed oxynitrides can be made with the substrate held at room temperature. The plasmalab system gives us the capability to deposit high quality, smooth, pinhole free glass films onto plastic or organic substrates with very little substrate damage. The system can handle wafers up to 8″ wafers in diameter, although the active etch/dep region is the center 4″ of the chamber. Several recipes are available, and recipe development is very straightforward.
System Characteristics:
Available gases:

N2, N2O, O2, SF6, Ar with max flow of 100 sccm
C4F8, SiH4, CH4 with max flow of 20 sccm

Power: 300W RF and 300W ICP
Process Pressure from 4 to 100 mTorr
Temperature substrate can be controlled from -150 to 200C.
Can be used for both materials growth and etching
Fees and Policies
UT Users: $31/hour
Higher Education/State Agencies: $54/hour
Corporate/External Users: $46/hour
To become a new user of this facility, please read the Instrument Reservation Information page. If you are already a user you can make a reservation in FBS.
To become a user of this instrument you must first complete the Cleanroom Safety Class. Please contact the facility manager to schedule a training session.