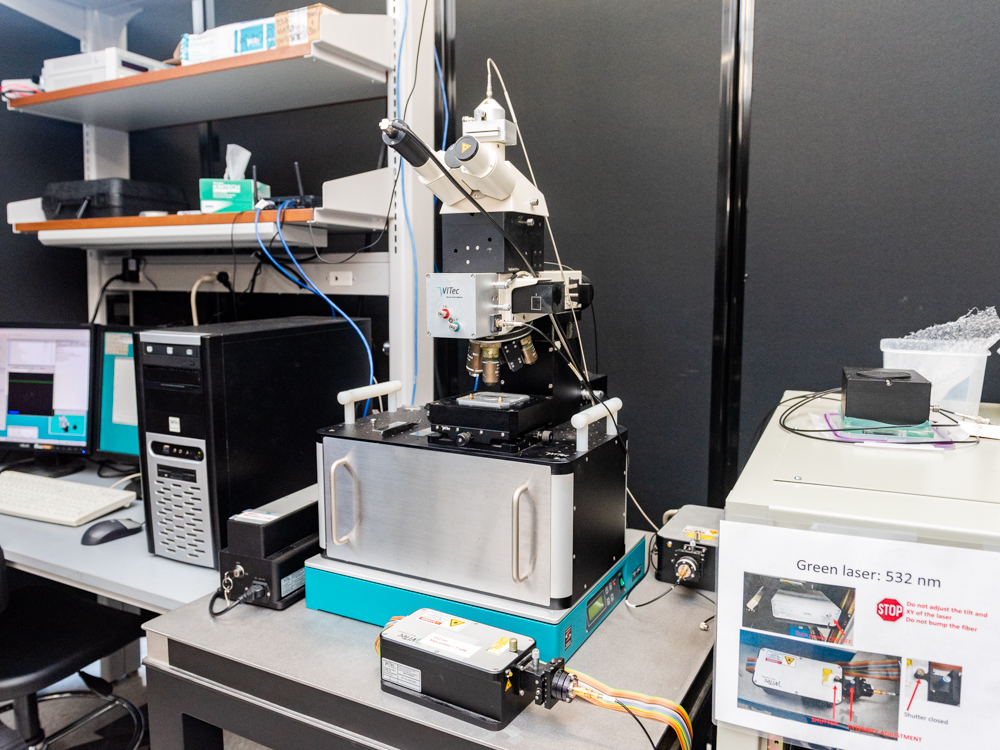 Equipment Type:
Micro Raman Spectra
Spectroscopy
Information the Equipment Can Provide
The confocal Raman imaging system alpha300 R from Witec offers the unique ability to acquire chemical information non-destructively with a resolution down to the optical diffraction limit (~ 200 nm). This allows to observe and analyze the distribution of different phases within a sample in ambient conditions without specialized sample preparation. Because of the confocal setup, it is not only possible to collect information from the sample surface, but also to look deep inside transparent samples and even obtain 3D information.
System Characteristics:
Available lasers: 488, 532 and 785 nm
Laser intensities (adjustable) at the sample position:

448 nm: ~5 mW max
532 nm: 10 mW max
785 nm: 100 mW max

The system is equipped with two 300 mm focal length spectrometers
Microscope Objectives: 10, 20 (3mm WD), 50 ans 100X (0.25 WD)
Both Stokes and Anti-Stokes lines can be collected for the 532 nm laser
Fees and Policies
UT Users: $32/hour
Higher Education/State Agencies: $84/hour
Corporate/External Users: $84/hour
To become a new user of this facility, please read the Instrument Reservation Information page. If you are already a user you can make a reservation in FBS.