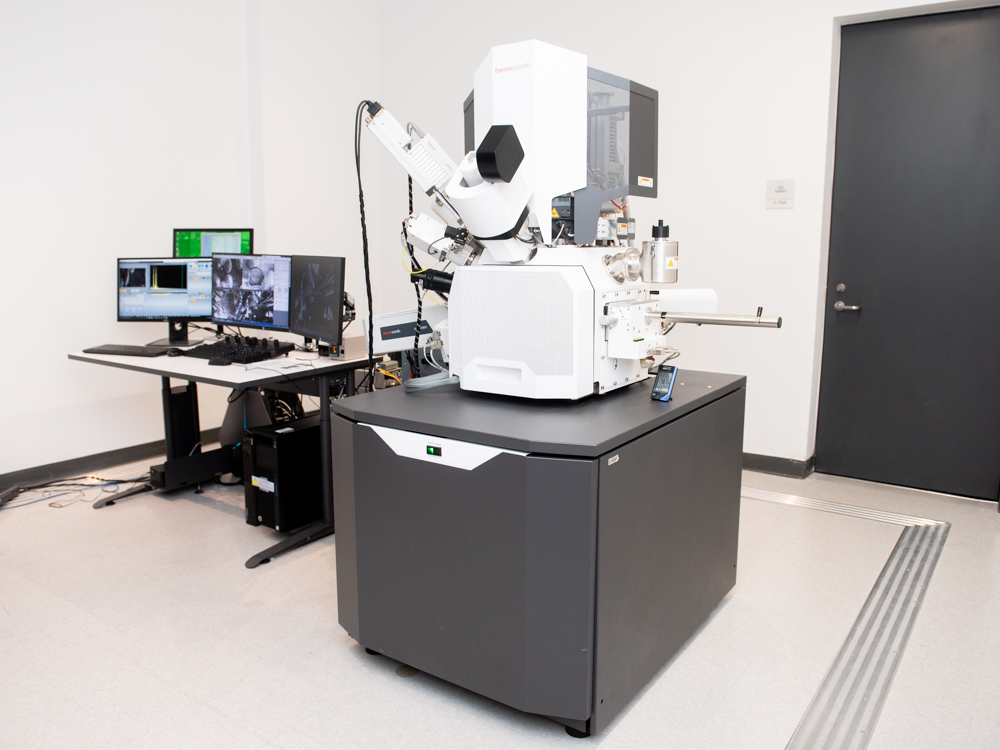 Scios 2HiVac Dual beam FIB/SEM System with EBL Capabilities
Contact: Dr. Raluca Gearba
Email: gearba@austin.utexas.edu
Location: EER 0.756
Equipment Type:
Electron Microscopy
Nano and Micro Fabrication
TEM Sample Preparation
Information the Equipment Can Provide
The Scios 2 HiVac system from Fisher Scientific is a dual focused ion beam/scanning electron microscopy system.
High quality TEM sample preparation with Sidewinder HT FIB, Easylift, and AutoTEM
High quality and throughput subsurface and 3D Characterization.
High contrast UHR imaging with in-lense Trinity detection scheme
User Guidance for common DualBEam activities
Auto Slice and View 4 can is used for automated serial milling and imaging
30Kev EBL system with NPGS
System Characteristics:
Stage: 110 x110 mm with 65 mm z-travel, 360° rotation, -15° to 90° tilt
Easy navigation: 6 megapixels Nav-Cam with 160 x105 mm field of view for on screen sample tracking
Large multi-purpose sample holder: 6 X 1/2-inch stubs, 3 x 1/2-inch stubs pre-tilted at 45°, 1 horizontal row holder slot, 1 pre-tilted row holder slot and 1 clamp holder
NICol SEM column with Shottky emitter source

Voltage: 200eV to 30 keV (20 eV landing with beam deceleration)
Current: 1 pA to 400nA
Resolution: 0.8 nm at 30keV in STEM, 1 nm at 30 k eV (in-lense detection),1.6 nm at 1 k eV (in-lense detection)
Ion Column:

Voltage: 500V to 30 kV
Current: 1.5pA to -65 nA in 15 steps
Resolution: 3 nm
Detectors:

Everhart-Thornley secondary electron detector (SED)
In-lens T1 and T2 detectors
ICE detector for secondary electron and ion detection
Retractable Directional Back Scatter detector
Retractable STEM 3+ detector
Micro Analysis detectors: 30 mm windowless EDS detector, WDS detector and EBSD
Carbon and Platinum deposition both the SEM and FIB
CryoCleaner and charge neutralizer
CryoMat for sample cooling up to -60°C
QuickLoader for sample transfer without breaking vacuum.
Fees and Policies
UT Users: $55/hour
Higher Education/State Agencies: $94/hour
Corporate/External Users: $165/hour
To become a new user of this facility, please read the Instrument Reservation Information page. If you are already a user you can make a reservation in FBS.