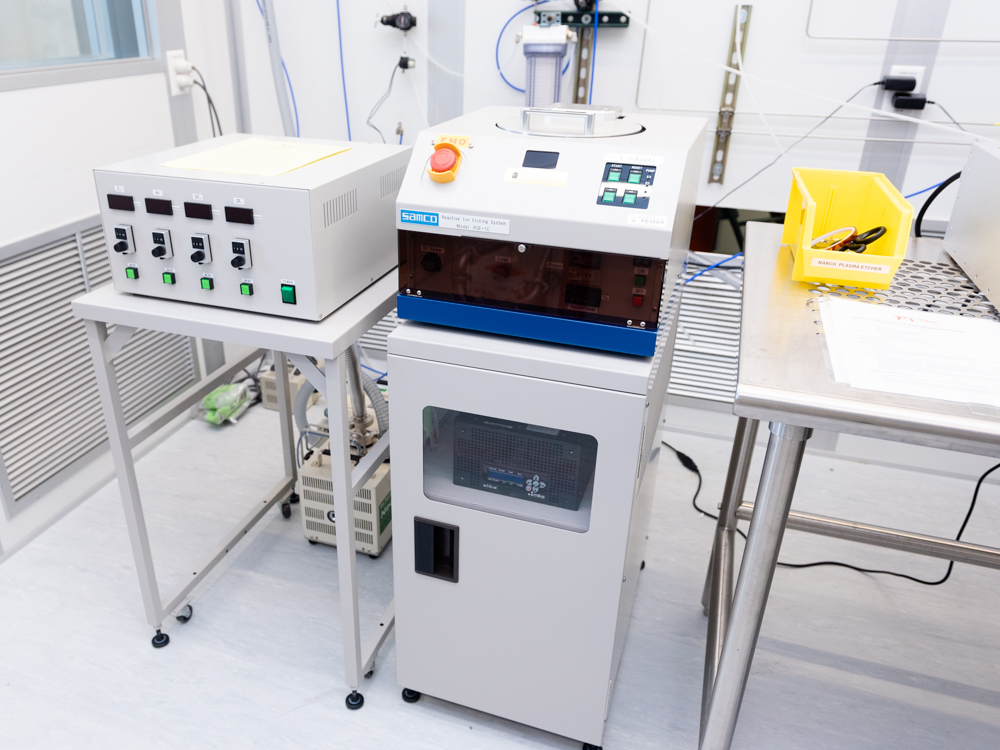 Equipment Type:
Cleanroom Instrumentation
Nano and Micro Fabrication
Plasma Etching and Material Growth
Information the Equipment Can Provide
The RIE-1C is a semi-automatic reactive ion etching system designed to etch dielectric, passivation, and semiconductor materials anisotropically. Etchable materials include: Silicon dioxide, silicon nitride, silicon oxy-nitride, silicon, poly-Si, polyimide, photoresist, and other polymeric films.
Characteristics:
Reaction chamber: Quartz, 212 mm dia.
Parallel plate design, cathode coupling RIE mode
Distance between electrodes is fixed at 44 mm
Upper electrode (140 mm dia.), lower electrode (180 mm dia.), support samples up to 6inch in dia
Water cooled substrate
RF power: 13.56 MHz, Max. 200W
Chamber pressure control independent of the gas flow
The system is pump using a dry pump
Available gases:

CF4: 100 sccm
O2: 100 sccm
Ar: 100 sccm
SF6:100 sccm
Representative Etch Rates:
Photoresist: 300nm/min (60W, 150mTorr, 30 sccm O2)
Fees and Policies
UT Users: $31/hour
Higher Education/State Agencies: $54/hour
Corporate/External Users: $46/hour
To become a new user of this facility, please read the Instrument Reservation Information page. If you are already a user you can make a reservation in FBS.
To become a user of this instrument you must first complete the Cleanroom Safety Class. Please contact the facility manager to schedule a training session.