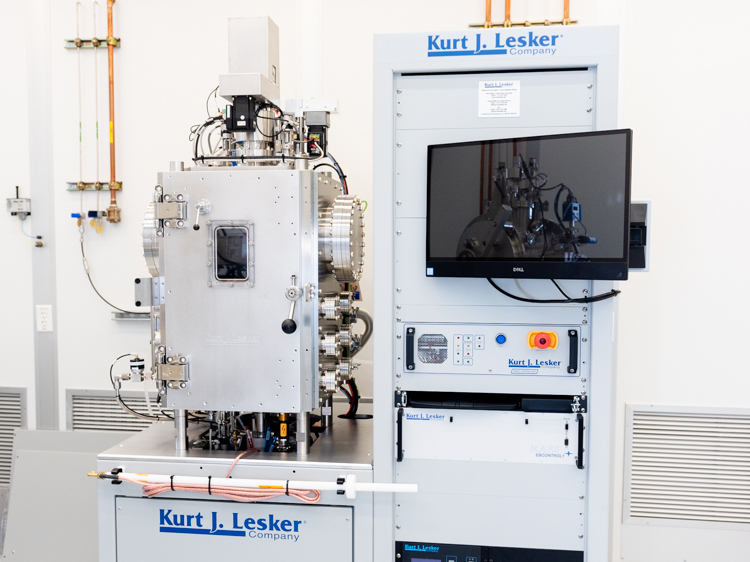 Equipment Type:
Cleanroom Instrumentation
Thin Film Fabrication
Information the Equipment Can Provide
The PVD75 thin film deposition system from Kurt J Lesker will enable deposition of metal films and oxides using e-beam, DC and RF sputtering.
System Characteristics:
Automated process control using the eKLipse software
Graphical recipe builder
System base pressure: 5.0E-06 Torr
Substrate rotation (up to 20 rpm) and water cooling
Pneumatically activated substrate shutter
Accommodates a 150 mm substrate
Film thickness is monitored using 2 crystal sensors
E-beam source: 8 pocket, 12cc sources (source shutter available); the substrate to source distance is about 15 inches
Sputtering:

2 DC sputtering sources that can be used also for co-deposition
1 RF sputtering source
Typical substrate to source distance is 4 to 6 inches, manually adjustable; low operating pressure
Accepts up to 0.375" thick (non-magnetic) targets with a 3″ diameter
Low operating pressure capability ≥ 0.5mTorr (material dependent)
Tilt capability included
Shutters included to limit cross-contamination
Up to 4 process gasses available (0 to 20 sccms)
Fees and Policies
UT Users: $31/hour
Higher Education/State Agencies: $54/hour
Corporate/External Users: $46/hour
To become a new user of this facility, please read the Instrument Reservation Information page. If you are already a user you can make a reservation in FBS.
To become a user of this instrument you must first complete the Cleanroom Safety Class. Please contact the facility manager to schedule a training session.