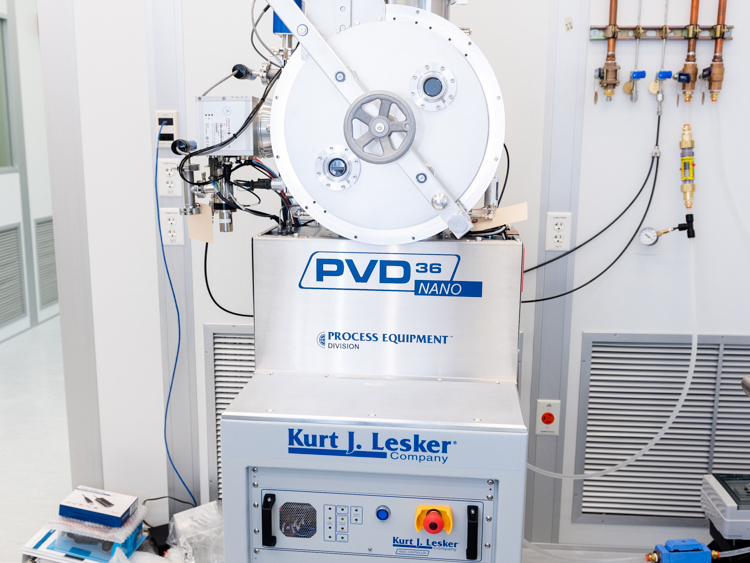 Kurt J Lesker Nano36 Thermal Deposition System
Contact: Dr. Raluca Gearba
Email: gearba@austin.utexas.edu
Location: FNT 4.106
Equipment Type:
Cleanroom Instrumentation
Thin Film Fabrication
Information the Equipment Can Provide
The Nano36 thermal deposition system from Kurt J Lesker will enable deposition of metals on substrates with a diameter of 150mm. The system has glovebox mating provisions, if needed.
Characteristics:
Automated process control using KJL eKLipse software with graphic recipe builder
Two thermal sources for co-deposition and Four sources for sequential deposition
Source characteristics: DC power supply, up to 12V or 400A, max 2kW applied power
Includes substrate and source shutters and cross contamination shields
Substrate rotation up to 20 rpms
Two crystal sensors. Controller executes rate and thickness control
System base pressure: 5.0E-06 Torr
Film uniformity, <8%
Fees and Policies
UT Users: $31/hour
Higher Education/State Agencies: $54/hour
Corporate/External Users: $46/hour
To become a new user of this facility, please read the Instrument Reservation Information page. If you are already a user you can make a reservation in FBS.
To become a user of this instrument you must first complete the Cleanroom Safety Class. Please contact the facility manager to schedule a training session.