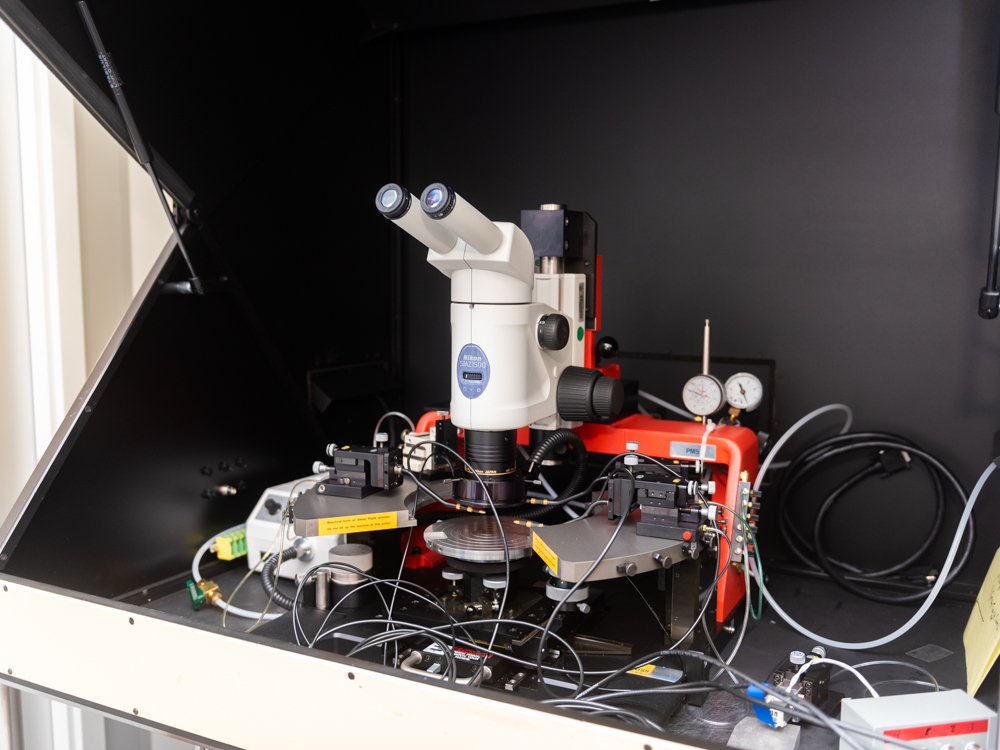 Electrical Characterization Instrumentation
Contact: Dr. Raluca Gearba
Email: gearba@austin.utexas.edu
Location: FNT 4.102
Equipment Type:
Cleanroom Instrumentation
Electrical Characterization Instrumentation
Electronic and Optoelectronic Testing
Information the Equipment Can Provide
The electrical characterization facility in TMI includes:
Solar cells measuring setup
The Karl Suss PM 5 Probe Station
Two Agilent 4156C Semiconductor Parameter Analyzer
A Keithley 4200-SCS Semiconductor Parameter Analyzer
A four-point probe setup for measuring resistivity of materials
The Solar Cell Testing Setup Glovebox is incorporated into a nitrogen filled glovebox. The measurement setup includes:
Keithley 2400 general purpose source meter
Xenon lamp solar simulator (Newport) equipped with an AM1.5G filter. The light source intensity is calibrated using a Si photodiode (Hamamatsu, S1787-08) with certification traceable to NIST.
External quantum efficiency (EQE) measurements can be performed using monochromatic light generated using a commercial monochromator (Newport Cornerstone 260 1/4M) chopped at 213 Hz and focused to a spot size of 1 mm diameter on the device active region. A lock-in-amplifier (Stanford Research Systems, model SR830) is used to measure EQE at given wavelength increments.
Light intensity is calibrated using calibrated photodiodes of silicon (Hamamatsu) and germanium (Judson).
The Karl Suss PM5 Probe Station consists of a stereo microscope, a 6-inch vacuum chuck which allows single chips as well as up to 6-inch wafers to be probed, 4 micromanipulators, and a light tight enclosure. It can be coupled to various test equipment for device testing such as I-V measurements.
The Agilent 4156C Precision Semiconductor Parameter Analyzer is a highly accurate laboratory bench top solution for advanced device characterization. These are few of its main features:
4x High-resolution SMU, 2xVSU and 2xVMU
Fill-in-the blanks front panel operation
Includes Desktop EasyEXPERT software for PC-based GUI instrument control
The Keithley 4200-SCS Semiconductor Parameter Analyzer provides a total system solution for DC characterization of semiconductor devices and test structures. This advanced parameter analyzer provides intuitive and sophisticated capabilities for semiconductor device characterization. The 4200-SCS combines unprecedented measurement speed and accuracy with an embedded Windows NT- or XP based PC and the Keithley Interactive Test Environment (KITE) to provide a powerful single-box solution. Model 4200-SCS has:
Four Source-Measure Units, including two high power SMUs with 1A/20W capability
Two high power SMU's with (200 V max) and two medium power SMU's (20V max)
Unique remote preamps extend the resolution of SMUs to 0.1fA
Self-contained PC provides fast test setup, power data analysis, graphing and printing, and onboard mass storage of test results
Fees and Policies
UT Users: $30/hour
Higher Education/State Agencies: $38/hour
Corporate/External Users: $38/hour
To become a new user of this facility, please read the Instrument Reservation Information page. If you are already a user you can make a reservation in FBS.
To become a user of this instrument you must first complete the Cleanroom Safety Class. Please contact the facility manager to schedule a training session.